Adirondacks Alpine Climbing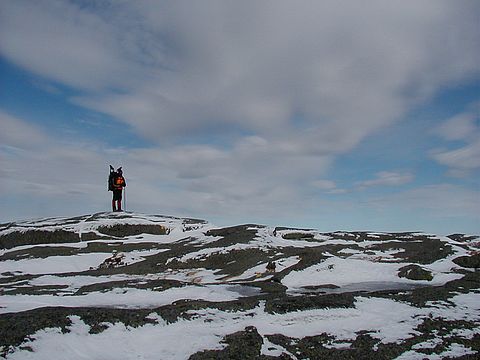 The vast scale of Adirondack State Park, in combination with its relative roadlessness, means that most winter mountaineering experiences are spaces for solitude, quiet winter beauty, and physical challenge. Depending on the objective, a 'Daks summit can demand anywhere from one to several days of climbing. Accessing these summits involves a variety of winter travel skills including snowshoeing, steep snow, French technique cramponing, and roped travel. Longer trips frequently involve the use of sleds—making for great Denali training—not to mention the skills you'll build in cold weather living. But the real motivation to meet these peaks is the pleasure afforded from up on high—vast stretches of coniferous forests and frozen lakes stretch out below and on top only the feel of the wind and wildness. Some of our favorite 'Daks' alpine objectives include:
Mount Marcy—New York's highest peak (5343'), Mt. Marcy rises up through deep green forests up to several hundred feet of rocky, exposed summit terrain. This peak is an excellent choice for individuals and parties looking to build their winter fitness and travel skills—as well as anyone who enjoys the feeling of the winter world on high. Depending on your choice of travel, a Mt. Marcy summit can be a one or two-day adventure. Add in Algonquin (5115') and Iroquois (4843') Peaks and you have an adventure that can involve pulling sleds, camping in snow caves, off trail navigation, and many more vital mountain travel and living skills.
Mount Colden/Trap Dyke—Done in the summer or the winter, the historic Trap Dyke (III, 5.0-Summer, WI2-Winter) is a classic mountaineering objective. The adventure begins with five miles of travel through rolling valley forests, cresting abruptly at the outlet of the glistening Avalanche Lake. Summer or winter, from here over 2000' of challenging terrain and enjoyable climbing await. Entering into the cleft of the Dyke, in the summertime, you'll scramble over a thousand feet of terrain before moving out onto the open summit slabs for a thousand more feet of climbing. In the winter, the narrow Dyke is transformed into a ribbon of snow and ice that winds its way to Mt. Colden's (4714') summit. From there, you'll be afforded peeks into the remote and wild center of the park to the west and the glistening Lake Champlain far to your east.
Slide Climbs—The flanks of many 'Daks peaks are accentuated with immense slabs that carve their way towards the summits. In the summertime, these slides are typically broken slabs of rock that provide for rock scrambles and technical rock climbing. In the wintertime, these slabs transform into vertical ice and snow playgrounds. The list of options is almost endless—some are remote, some easily accessible in a short day, some requiring only enthusiasm and an exploratory spirit, others demanding athleticism and technical rock skills. Narrowing down the many options depends only on your interests, ambitions, and climbing limited only by your passion, ambitions, and the time you have to pursue them in the 'Daks. Some of our all-time favorites include: Eagle Slide (4th Class), a fine route up Giant Mountain, easily accessible from Keene Valley; North Face of the Gothics (II, 5.2-5.10 or WI2) a much more remote and strenuous, but very rewarding, climbing day.
When you're ready to book your Adirondack Alpine Climbing Adventure dates, please go to our Scheduling Page!