North Cascades, Mt. Rainier, Baker, & Shuksan Climbing Adventures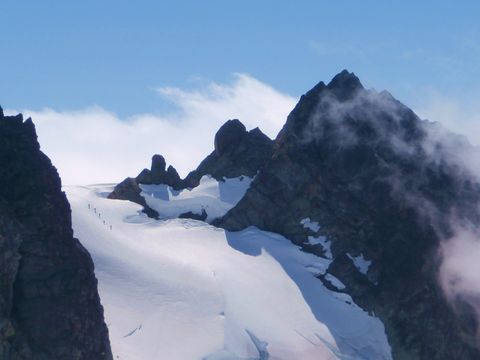 The Pacific Northwest offers a wildly stunning alpine array, with rock, ice, and glacial objectives to challenge any climber:
North Cascades National Park—Home to "50 Classics" like the Torment-Forbidden Traverse, as well as less-traveled peaks like Eldorado, Mix-up, Triumph, and more.
Mount Shuksan—Known as the "American Matterhorn", a classic rock pyramid surrounded by swaths of glacial snow, with ice/mixed routes like the North Face, rock/snow routes like the Fisher Chimneys, and stellar climbing by any route once on the summit pyramid has been gained.
Mount Baker—"Koma Kulshan", famous for the biggest snowfall in the Lower 48, offers ample alpine challenges; popular options include the glacial route up the Coleman-Deming or summertime ice climbing via the North Ridge.
Mount Rainier—We are one of a select group of guide services awarded an annual permit for one climb of the massive Mt. Rainier/Tahoma. Our climb is typically in late-July/early-August and we travel via the semi-technical Kautz Route. Prior climbing/mountaineering experience is required.
Please review the information regarding our Custom Cascades Climbs below...
Putting Together Your Customized Cascades Adventure
If you've got a particular Cascades objective in mind and want to get dates on the calendar, or if you'd like to discuss the array of options that exist and select one best suited to you, connect with us now.
For a look at our suggested clothing and gear suitable for a North Ridge of Mt. Baker climb, as well as many other North Cascades alpine adventures, click here.
Our Cascades-specific scheduling, payment, and policies information appears below. Please be sure to review it.
Reserving Your Cascades Dates
We offer customized Cascades climbs during the May-August season and one small team climb of Mount Rainer via the Kautz Route in August. Please connect with us regarding your dates to confirm availability. Your dates are reserved once we receive a non-refundable 30% of the total adventure costs (or the full costs if your adventure is less than 30 days away). Payment can easily be made via your choice of:
Paypal: Paypal transfer to adventurespiritguides@ . If paying via this method, gmail.complease be sure to click on the "Friends" option, as this eliminates transfer fees.
Venmo: Send payment to @Kel-Rossiter.
Check: Payable to "Adventure Spirit LLC" mailed to: 83A North Champlain Street, Burlington, VT 05401
Cash: If you prefer to pay cash, please contact us to arrange payment.
Pricing Options
Our per-day Cascades custom guiding and instruction rates are as follows:
1 person: $475
2 people: $300 per
Larger groups: Please contact us to discuss rates/options
Rainier Climbs: Our 2020 pricing for the 5-day Kautz Climb is $2250. This includes first night's lodging, climbing permit fees, group equipment, and lodging on our first night. This is climb is full for 2020—connect with us about 2021!
About Our Pricing
Apples to Apples: You will find a variety of rate schemes listed for various guide services, but regardless of how you do the math, you will find our rates to be the most competitive. Be sure you're comparing "apples to apples", by paying attention to the following things...
Guide Training & Qualifications: What are the teaching and leadership qualifications of your guides? All of our North Cascades trips are led by Kel Rossiter is an American Mountain Guide Association (AMGA) International Federation of Mountain Guides Association (IFMGA) Certified Mountain Guide. Click here to see a few reasons why this matters. This is the highest and most rigorous level of training and certification attainable for climbing guides. This process takes years of training and examination. To learn a bit more about the process, click here.
Personal Communication: How much communication will your guide service provide in helping you to best prepare for your adventure? You can call and talk directly with your guide anytime. We pride ourselves on being there as your guide throughout the entire adventure process, from preparation, to the event, to moving onward and upward after that!
Skilled Professional Coaching: Will you be communicating with office staff or your actual guide? When you contact us, you'll be speaking directly with the guide you'll be climbing with, a guide who works in the field full-time and is familiar with the particulars of your adventure, and can help you best prepare for it.
No Added Travel Costs—Many of the other prices you'll find on-line also tack on an additional fee to cover guide travel costs. That is not the case with Adventure Spirit—the per-day price is the price you'll pay per-day, that's it.
No Added Overnight, "Long Day", or Other Costs—You'll also find that some services add on overnight fees or extra charges for long days or big objectives. Once again, that is not the case with Adventure Spirit—the per-day price is the price you'll pay per-day, that's it.
Taking into account these and other factors, we believe you'll find Adventure Spirit to be the optimal value. If you have any questions regarding what sets our services above the rest in terms of performance and pricing, please contact us to learn about the Adventure Spirit edge.
Cascades Cancellation & Change Policies
We plan our Cascades season and related travel based on our anticipated work calendar. This scheduling takes place months in advance of the summer season. Our cancellation and change policy helps our guides with job security. Guides with job security are able to make a career out of it, and hence, excel at it. With that in mind, Adventure Spirit maintains the following cancellation and change policies specific to Cascades adventures.
General
A 30% non-refundable deposit secures your adventure dates.
There are absolutely no refunds or credits given for any reason on your deposit once your deposit has been made.
Full payment is requested no later than 90 days before your adventure.
Policies regarding refunds/credits of the 70% remainder are described below.
Weather & Route Cancellation & Changes
Cascades weather can be variable, but as the saying goes, "You can't win if you don't play." All scheduled Cascades trips will take place regardless of the weather and, as necessary, we will consult with you and adjust to make best use of the given conditions. Additionally, conditions on our intended route may sometimes not permit climbing. With these weather and route variables in mind, adjustments may include climbing a different route or an overall change of climbing objective if it is unreasonable to continue with your chosen adventure based on current or forecasted weather, avalanche conditions, or route conditions.
Personal Cancellations & Changes
Our Cascades Adventures involve significant planning, travel and permit fees, and logistical preparations, well in advance of this trip. For these reasons the cancellation policies below are in effect.
There are no refunds or credits given on the 30% deposit.
For any cancellation made 90 or more days in advance, we will return 100% of any of the 70% remainder that has been paid.
For any cancellation made less than 90 days in advance of the trip, no portion of the 70% remainder that has been paid shall be refunded or credited.
In the event that Adventure Spirit needs to cancel the trip or requests a change of scheduling, we will be in touch with you immediately. We will work to see if rescheduling is possible. If that is not possible, we will work to set you up with an alternative guide/guide service and we will refund all of your deposit and remainder payments. You can then work with the alternative guide/guide service to develop a plan and pricing.
Travel & Rescue Insurance
We strongly encourage everyone to consider purchasing travel insurance. Click here for a link to one company we've used in the past.
We require rescue insurance for all international travel and we strongly recommend it for all our trips. Click here for the company we use and recommend, Global Rescue.
Click here to return to our Destinations page.