Main content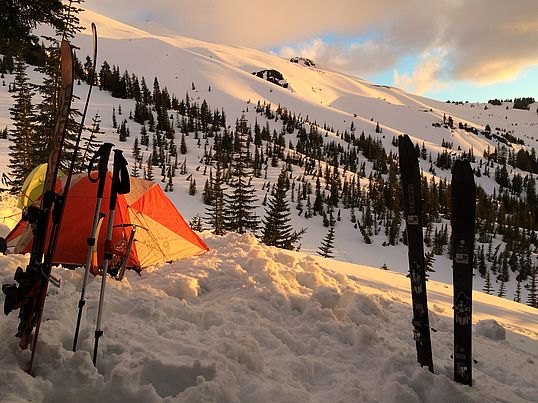 Backcountry & Ski Mountaineering
There are few things more satisfying upon reaching the top of a peak than ripping skins and descending swiftly, in elegant arcs, down to the valley floor. Ski touring allows us to travel through and witness immense amounts of mountain terrain, to pay attention to the subtleties of nature in the snowpack, the sun, the wind and to look for how these elements can maximize our mountain moments. Bursting through knee-deep powder, slashing through fresh morning corn, navigating across the gaping yaw of glaciers, or slithering through quiet forest groves—the challenges found in backcountry skiing and ski mountaineering are only equalled by the enjoyment. Find yourself here...
Northeastern US—From narrow slots gauged into New Hampshire's Tuckerman and Huntington Ravines, to gladed ski descents through Vermont's birch stands, to technical descents of Adirondack slides like Trap Dike, the Northeast offers a diverse array of ski options. It is a great place to begin your backcountry ski learning journey—opening up new ways for you to experience nature and avoid resort crowds. It is equally as grand a place to explore advanced ski mountaineering techniques like ski cramponing, steep snow and ice ascents, rappeling into couloirs, and whiteout navigation. All of these experiences heighten the challenge and thrill—and prepare you well for objectives in the other areas we operate.
Pacific Northwest US—The Cascades Range is legendary for its gargantuan snowpack—with Mount Baker averaging over 50 feet annually! Massive volcanoes and toothy peaks lie within view of the Pacific Ocean, encompassed by massive glaciers, and old-growth forests. Areas like Table Mountain near Mount Shuksan provide for easy-access day touring options. More remote locales like the Boston Basin and summit ascents of Mount Baker typically provide an opportunity to enjoy the pristine solitude of snow camping. No matter which way you go, the Pacific Northwest will reward you a vast canvas that will leave memories etched in your mind as you carve your turns into the slopes.
European Alps—Ski mountaineering began in the Alps and they certainly have perfected the craft. The town of Chamonix lies near the confluence of the French, Swiss, and Italian Alps, allowing access to an absurd amount of ski terrain: Vast glacial swaths like the Vallée Blanche, tight couloirs in the Aiguille Rouge, 10,000' ski descents from the top of Mont Blanc, and much, much more in between. And—of course—there is the historic Haute Route Tour, a week-long journey that carves a sinuous path through the Alps range from Chamonix to Zermatt. On the Haute Route and with all Alps skiing, the hallmark is the accessibility—an infrastructure of gondolas means you can sip an espresso in the valley, be crossing a glacier before the sun hits it, carve elegant turns through mountain passes, and be back in town for evening fondue. Or, for longer journeys, experience the unparalled hut system. No matter how you like to explore, the Alps offers a map without edges or borders.
Click here to return to our Adventures page.
When you're ready to book your Backcountry & Ski Mountaineering Adventure dates, please go to our Scheduling Page!