Main content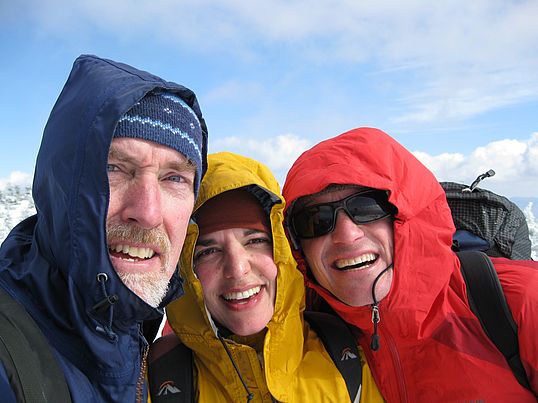 Adventure Partner Testimonials
Articles in the Blogosphere
You can read two very thorough—and complimentary—blog reports from climbers who have worked with Adventure Spirit.
To read about a two-day alpine training workshop on Mt. Washington click here.

To read about a two-day climb of the Cascade's classic Torment-Forbidden Traverse click here.

And you can hear Lead Guide Kel Rossiter explain a bit about the wonderful world of ice climbing on a Vermont Public Radio program here.
Other Accolades
The letters we receive from our adventure partners are the most satisfying and rewarding part of the process. We feel so fortunate and honored to be a part of so many people's peak experiences, whether those are moments of personal growth, goal accomplishment, shared time with friends and family, connections with nature, or beyond. Here are just a few of the accolades we've received in recent times—thank you to all who made the time to share them!
From Our Adventure Partners
Just a BIG thank you for the 5 stars climbing day. I loved every minute of it and the technical info, the patience, the attention to safety and all of the beta. I was very exited last year when I saw the ice by the road and so glad you made it come alive today! What a day!
—O. Carre, Associate Director of Product Source Management, Merck
Last year in March myself and my brother Max climbed Mt Mansfield with one of your guides. It was an incredible day and probably the highlight of my trip home on leave.
—S. Rogers, Sailor, US Navy
Our guide did a great job, he was able to ease us into ice and provide some challenging routs as our experience progressed. He was extremely knowledgable, safe and fun to climb with. We took time to do some anchor building activities too. We didn't get do multi pitch because of all the snow but that just means we have more reason to come back. Next time!
—M. DelGuadio, Senior Design Lead, Google
I would have never thought that I would be able to lead ice this year and credit certainly belongs to you and your team for getting me there.
—M. Fuehrer, Global Operational Excellence Consultant, Sanofi
THANKS again for a great trip!! A fantastic experience and invaluable in so many different ways. It was a pleasure to meet you. After one short experience you have become my go to guy in the Northeast. I am looking forward to many more adventures.
—J. Satterfield, Chief of Anesthesia, North American Partners in Anesthesia
I think I speak for everyone in saying this weekend was a pleasure and we would like to thank you again for the entire experience. We very much appreciate your willingness to build a curriculum around our specific requests while also appreciating we may not know, what we don't know and adding in topics as you saw appropriate.
—J. Pittsinger, Senior Project Engineer, Hatch Mott MacDonald
I have learned a great deal from the two guided trips that I have taken with you. I have to admit that during the last trip I connected with my 'Ice Spirit'. My trust in the crampons strengthened with every step and later transformed into fun. I am beginning to see the relationship between the ice, the tools and myself. Do you remember that you had used the word 'intention' during our first adventure? It stuck with me and I was able to see the manifestation in the actions. I sincerely thank you and would recommend you to others.
—S. Ahmed, Software Engineer
I can't believe how quickly this year is ripping away from us. I have been meaning to write and thank you again for a fantastic couple of weeks in January. I always come away from such things wishing I was fitter, stronger, more skilled etc – that's life – but putting that to one side I really did have a great time and think you are an excellent guide. You challenged me but also gave me enough latitude to just enjoy the time and environment. I think you strike a good balance as a guide in this regard. One of the joys of these kinds of adventures is when you find yourself daydreaming months later, unexpectedly looking back on a moment, or a place, a small part of a climb, and in doing so realise how much the experience has given you. I have found myself doing that a lot in relation to our trip – moments like walking across Chapel Pond and hearing it 'crack', looking at running water under the ice, plodding up to Smugglers notch and getting some weather blasting – and many more.
—G. Hazel, Partner, James & Wells Intellectual Law, Auckland NZ
I wanted to send you out a note of thanks for a great trip to the Cascades.It was filled with highs and lows but in both I left with knowledge . I now have a better feel and understanding for what is involved in hiking/climbing bigger mountains. The reality of my situation is I entered a young mans game at the not so young age of 50. I was basically sedentary for 28 years while working on Wall Street. The most exercise I got was lifting a glass of wine or the occasional beer mug. When I left the street I wanted /needed something to challenge me both mentally and physically and boy did I find the right hobby ! I would like to take a few moments to express to you my gratitude for helping me break thru a few glass ceilings on this trip. You pushed me when I needed to be pushed and when I just needed a pep talk and some reassurance you were equally up to the task. It is those qualities ( besides the fact that you are a great/safe and tremendously qualified climber) that make you a great guide and friend. You should be proud of the way you conduct yourself on and off the mountain. There were times that I was in a complete panic and you got me thru every situation. I left each difficult task with an absolute reassurance that we can manage every obstacle in front of us and basically just enjoy the climb!
—P.C., Retired Wall Street Trading Desk Owner
From College/Youth Presentations & Programs
Kel's presentation for the Brown Outing Club was engaging, funny, and certainly inspiring. Kel's energy and personability kept the the audience riveted for the duration of his talk. His presentation was chock-full of nuggets of wisdom and memorable advice applicable to climbing and beyond--I caught a number of my fellow audience members scribbling down notes and quotes throughout the talk. For the climber, outdoor-enthusiast, or anyone passionate about pursuing a goal, Kel's enthusiasm for life is contagious. I only have good things to say!
—Z. Gates, Student/Outing Club Coordinator, Brown University (following a presentation at Brown U)
I appreciate how Kel shared his unique path through life and the lessons he's learned along the way. I was inspired by some of the things he was able to accomplish and his optimistic outlook on life. Even though Kel's story focuses on climbing, his message can be applied to anything someone is passionate about. After both of Kel's presentations that I watched I walked away with an increased desire to pursue my passions and a feeling of ease to know that the path to get there doesn't need to be direct. Kel's story is worth listening to and will hopefully motivate others to go after what they love.
—A. Wendler, Student/Outing Club Co-President, Boston University (folowing a presentation at Boston U)
Today was the last day of finals at GMC and I finally have some time to begin reflecting on the semester. The GMCORA was very grateful that you were able to come down and speak with us. The talk was beneficial and it was exactly what we were looking for. It was a nice way for students, to take a break from writing term papers and studying for finals; people left feeling encouraged and excited to learn. The club regards the event to be a great success and we will plan similar lectures in the future, although none will compare.

—Nick McEachern, Student, Green Mountain College
The students had a blast!! Everyone was a little hesitant at first, but by the end of the day they were cheering on each other and climbing some of the toughest routes. Thanks for an awesome weekend!
—M. Jennings, Student Activities Coordinator, Champlain College
I just wanted to take a moment to say thank you for this summer's experiences. Frost Valley YMCA Adventure Trips utilized your guiding service throughout the summer, and each time they were met with professional and friendly guides. The guides, in my experience, are what really make the activities fun. When my kids come back chatting about how great climbing was and how awesome the guides were, I know I have found a worthwhile organization. Without your guides this summer, my kids would have missed out on a lot of opportunities. From the patience in pushing them to stretch beyond their limits and comforts to just sitting back laughing and having conversations with them, your guides have touched each of these campers in a positive way. So, thank you for all you have done for us this summer, and I look forward to rebooking with you next summer.
—L. McLain, Adventure Director, Frost Valley YMCA