Main content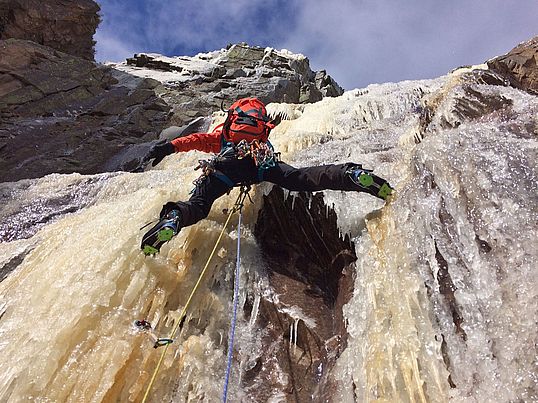 New Hampshire Ice Climbing
Even granite has its vulnerabilities--and New Hampshire is "The Granite State". Fortunately for ice climbers, come winter time those vulnerabilities become strengths, transforming New Hampshire's granite faces into ice playgrounds. Ice is an ephemeral medium and the best climbs can vary by the day and even hour. We pay attention to this progression and plan accordingly, but some of our perennial winter favorites include:
Cannon Cliff—The foreboding Black Dike (WI4+, M3) splits the broad swath of Cannon's gigantic granite band and is the plum that attracts many a climber to the cliff. However, other climbs like Fafnir (WI5) and the ephemeral Omega (WI5+) are equally world-class routes, albeit at stiffer grades. No matter how you slice, kick, and swing it, a day at Cannon is a full-value adventure.
Cathedral Ledge—While the ice climbing routes on Cathedral can be fickle, when in, they are divine. Repentance (WI5, M4-5) is the most reliable and is an exquisite mix of chandeliered ice, an ice filled chimney, and a gymnastic rock roof top-out. Remission (WI5+, M5) and Super Goofers (WI5-) offer other high-end options, while Goofers Delight (WI3) offers an excellent intro to thin ice.
Frankenstein—Beauty is in the eye of the beholder, and if you love ice, you'll find Frankenstein has quite a handsome array of climbing options. As its name would suggest, The Standard Route (WI3) is a favorite—but don't let the name fool you—traverses out of caves and stemming up narrow corners will leave you with memories anything but standard. The Penguin (WI4), Chia (WI3+), and Dracula (WI4+) are just a few more of the many other enticing options.
Crawford Notch—High above Frankenstein, Crawford Notch sees less climbers and offers a similarly stunning range of options. Willey's Slide (WI2) is a huge sheet of ice that goes on for pitch after pitch of confidence-building ice climbing. Cinema (WI2) and Hitchcock (WI3) Gullies thread their ways up the flanks of Mt. Willard, Cinema offering an open expanse of thin ice-on-rock picking, while The Cleft (WI2-3) offers a deep vein of ice to sink into and ascend. Elephant's Head Gully's (WI3+) roadside accessibility provides a great way to round out a stellar Crawford Notch day.
Kinsman Notch—Tucked up in a chasm between New Hampshire and neighboring Vermont, Kinsman provides easy-access, single-pitch ice climbing set amidst hills blanketed with nothing but forests and snow. In between climbs on Pot O' Gold (WI4) and Shamrock (WI3-4), you'll thank your lucky stars to have found a place that so perfectly blends enchantment and challenge.
The Flume—Ice is nice, but mixed rock and ice is…divine…and the Flume has got it in abundance. Standing on a frozen river in a canyon less than half a rope length wide, The Flume provides a unique setting for your ice adventure. Generally steep, the canyon offers pickin' and grinnin' mixed challenges in the WI3-4/M3-7 range.
Long Way Home—This is one of our backcountry ice favorites—seldom visited, but well worth the investment. If you're up for a bit of bushwhacking through pristine backcountry, followed by 6-8 pitches of WI2-3 in a remote setting, then you're up for Long Way Home (WI2-3). As the name implies, this climb makes for a long, but very, very rewarding day.
Click here to return to our Northeastern Ice Climbing Adventures page.
Click here for a complete Clothing & Equipment List and to learn a bit more about what a day of ice climbing adventures looks like and how to best prepare.
When you're ready to book your New Hampshire Ice Climbing Adventure dates, please go to our Scheduling Page!