Main content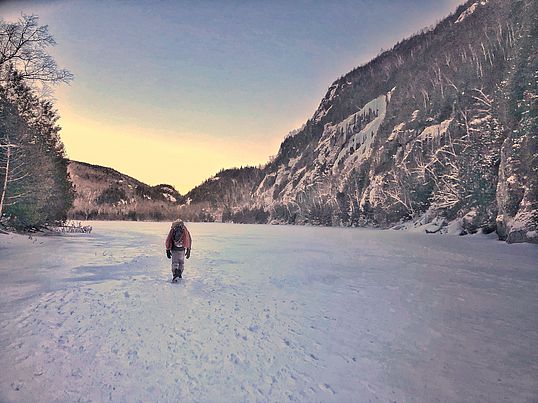 Sharp daggers and crystalline walls of ice seem to cover just about every one of the countless crags in the Adirondacks. Equipped with our medieval looking ice tools and crampons, we'll head out into these enchanted forests in search of ice dragons to ride! While there certainly are many remote ice crags to be had, many of the 'Daks most intriguing ice options have easy road access, allowing you to maximize your time on the ice. For your Adirondack vacation, among the many ice routes and areas, a few of our favorites include:
Chapel Pond Slab—There are very few places where you can find seven-hundred consecutive feet of ice that is climbable even by first-timers, but Chapel Pond Slab is one of them. Jutting out from the south end of Chapel Pond, the thin ice of the slab goes up for pitch after pitch of climbing pleasure. This is a great climb for those climbing with partners, as the terrain allows for easy communication and many opportunities to be climbing in tandem.
Chapel Pond Canyon—This is a plum place for larger groups of diverse abilities or for those just looking for a lot of climbing options in a small space. Roaring Brook Falls (WI3+) freezes up to form wild ice mushrooms and clouds to climb. Chounaird's Gully (WI3) was discovered by Yvon Chouinard (founder of Patagonia Clothing) back in the 60's and used it to test out his new curved ice tools. The tools were a hit, becoming the standard design for vertical ice, and the climb has remained just as popular--three-hundred feet of pure ice pleasure. Steeper test-pieces like Crystal Ice Tower (WI4) and Power Play (WI5) take the challenge level higher. Further down the canyon, the climbs are mainly one pitch and the spacious belay areas are group friendly. Numerous ice climbs line the walls of this canyon, only minutes from the roadside. A favorite of ours is Haggis and Cold Toast (WI3+), an beautifully ugly runnel of yellow ice that fills a narrow slot canyon.
Poke-0-Moonshine—The name sounds a bit funny, but the climbs are serious. Poke-O has about the easiest approach you'll find in ice climbing, coupled with some of the hardest routes, characterized by thin ice drips smeared over its anorthosite face. Positive Thinking (WI5-) is every bit as good as the name would imply, with a first pitch of unrelenting, plug-and-chug ice, followed by acrobatic moves up a pillar on pitch two, then easing off for the pitch three top-out. Neurosis (WI4) is another favorite, kind of like a less-steep, but often thinner, version of Positive Thinking. Don't let the grade fool you—with tricky tapping on the first pitch and an often overhanging curtain on the top-out fourth pitch, this climb will get your attention! The same could be said for The Waterfall Area (WI4-5), a sweeping expanse of ice full of 35m lines, each of which should have its own name.
North Face of Pitchoff—A one-mile approach lands us in an idyllic valley with enjoyable ice options tucked between the tree groves. Our favorite is the ever-delicate Screw and Climaxe (WI3+)—an excellent place to practice the craft of climbing thin ice. Weeping Winds (WI3+), Arm & Hammer (WI3+) , and Moss Ghyll (WI3) are a few more of the many options you'll find in this lovely valley.
Cascade Pass Area—Lots of attractive single-pitch ice options at a variety of grades can be found here, but our favorite is the alpine ice objective Lucky Seven. This gully got cleared out during Hurricane Irene and now provides for an easy-access alpine route similar in nature and grade to the more remote Trap Dike.
Avalanche Lake—You cannot beat the jaw-dropping beauty of Avalanche Lake! A four-mile approach at an easy grade drops us into a glacial lake with cliffs sweeping up on either side. Fissures in those cliffs flow with ice at a variety of grades. Trap Dike is an awesome alpine objective, with an astounding 2000' of ice and snow climbing—and maybe even a ski descent! Avalanche Mountain Gully (WI4-) and Adirondike (WI3+) are lovely pure ice climbs, but perhaps our favorite is a unnamed little number we call "The Crazy Corkscrew Climb" that features some of the craziest ice features and maneuvers you can imagine—and all at a moderate grade (WI3+).
Click here to return to our Northeastern Ice Climbing Adventures page.
Click here for a complete Clothing & Equipment List and to learn a bit more about what a day of ice climbing adventures looks like and how to best prepare.
When you're ready to book your Adirondack Ice Climbing Adventure dates, please go to our Scheduling Page!