Main content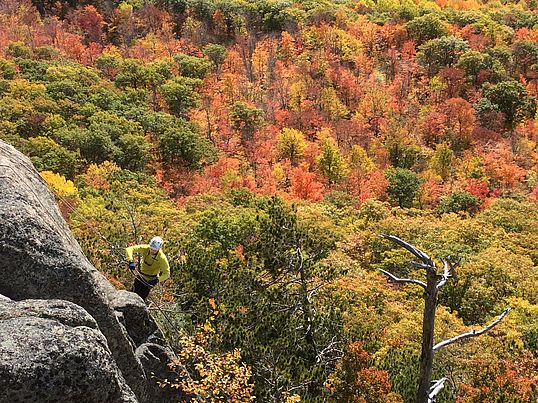 AMGA Single Pitch Instructor Assessments
No remaining 2023 AMGA SPI Assessment offerings.
We will develop our Spring 2024 SPI Assessment calendar this winter. If you have questions or if you'd like to pitch us your preferred dates as we develop that calendar, please connect.
The Basics
The American Mountain Guide Association's (AMGA) Single Pitch Instructor (SPI) Course and Assessment (Exam) is considered the standard for rock leadership in single pitch environments. Those who successfully complete the AMGA SPI Course and Exam have a significantly higher rate of success in finding employment in the outdoor climbing field. They also find improvements in their overall climbing leadership personally and professionally.
The Exam is a minimum of 16 hours over a two-day period. During the Exam, participants will be tested on a range of skills related to anchor-building, site management, instruction, risk-management, climbing, rappeling, and rescue. Each participant will be asked to complete a comprehensive lesson plan and deliver a 15-minute lesson on a relevant topic at some point during the Exam. Feedback will be delivered during and following the course. The Exam is not designed with the idea of "doing things the AMGA way"--there is no AMGA way. Critical thinking and careful evaluation are critical. There are a variety of ways that most SPI tasks can be safely and efficiently accomplished--it is up to the Exam participant to determine an appropriate technique for the given situation and to efficiently and safely apply that technique. While this is an Exam, it is delivered in the spirit of continual learning, such that each participant can hope to learn new skills while demonstrating a solid grasp of the fundamentals, and will leave the course with many new ideas and skills useful to both their professional and personal climbing pursuits.
The SPI Certification is valid for three years. The Certification can be renewed by taking another SPI Exam or taking any higher level AMGA training. Additional course information can be found on the AMGA's SPI page HERE.
Assessment/Exam Details
Exam Leader:
Kel Rossiter will be leading the SPI Exams. You can learn about Kel and his experiences in the climbing world by clicking HERE.
Exam Dates:
No remaining 2023 AMGA SPI Assessment dates.
We will develop our Winter 2024 SPI Assessment calendar this winter. If you have questions or if you'd like to pitch us your preferred dates as we develop that calendar, please connect.
Exam Cost:
Exam Prerequisites:
You are a current member of the AMGA. Membership details HERE.
You have successfully completed an AMGA Single Pitch Instructor Course.
You have led a minimum of 40 traditional routes, most of which should be 5.6 or above and on a variety of rock types.
You are able to comfortably lead and safely protect 5.6 traditional routes at the time of the course.
You are able to comfortably climb 5.8 on top rope at the time of the course.
The SPI Assessment can be taken directly following the SPI Course if the candidate successfully completed the course and meets the assessment prerequisites. However, it is highly recommended that the SPI Course candidate take time practicing and consolidating the skills learned on the course before assessment (6-12 months).
You do not need First Aid training to take the course or assessment. However, it is your responsibility to hold appropriate medical certification for the location that you are working in.
Location/Climbing Sites:
Exam areas may include Lower West Bolton, Upper West Bolton, Butchers Crag, and Prospect Rock. All of these are within a 30 minute to 1 hour drive from Burlington. Staying in the Waterbury/Stowe area is another good option. There are numerous lodging options in the area and several campgrounds. An excellent resource for investigating these climbing areas is the book/mobile app available HERE.
Required Equipment: In the big picture, you will need sufficient gear for setting up at least one top-rope site in a variety of types of scenarios. More specifically, this includes:
Climbing helmet, harness, and shoes
A 60-70m dynamic rope (bi-pattern preferable)
One 30+m static or two or more 15+m static rope sections
Traditional rock protection rack that is suitable for safely leading/protecting single-pitch climbs in the 5.6 range
Enough single length slings/draws for leading and one double-length sling
Releasable assisted braking device (e.g., "Gri-Gri" or similar)
"Plaquette/Guide" style assisted braking ATC
3+ "Pearabiner/HMS" style locking carabiners
6+ Additional locking carabiners
10+ Non-locking carabiners
2 cordelettes (5m x 7mm)
Notebook (Rite-in-the-Rain preferable) and a camera for recording course material
40+L pack that is capable of comfortably fitting all of this gear plus other group gear
Exam Confirmation/Payment:
A 30% deposit ($127.50) confirms your place on this course. The remainder ($297.50) is due 30 days in advance of the course. You can find all the details regarding how to make payment and payment policies on our Scheduling Page.
Adventure Spirit prides itself on its customized service—if you've got any particular questions, etc, please contact owner/lead guide Kel Rossiter at adventurespiritguides@gmail.com.
Diversity, Equity, & Inclusion Scholarship:
Climbing is an excellent lifetime activity for all people across all ages and stages of life. Unfortunately, there are socio-economic and other barriers that prevent equal access to this activity. Similar barriers have existed for people looking to make the transition from climbing recreationally to climbing leadership in the professional context. In an effort to address this, we have scholarship opportunities available. Please visit this page for additional information.