Main content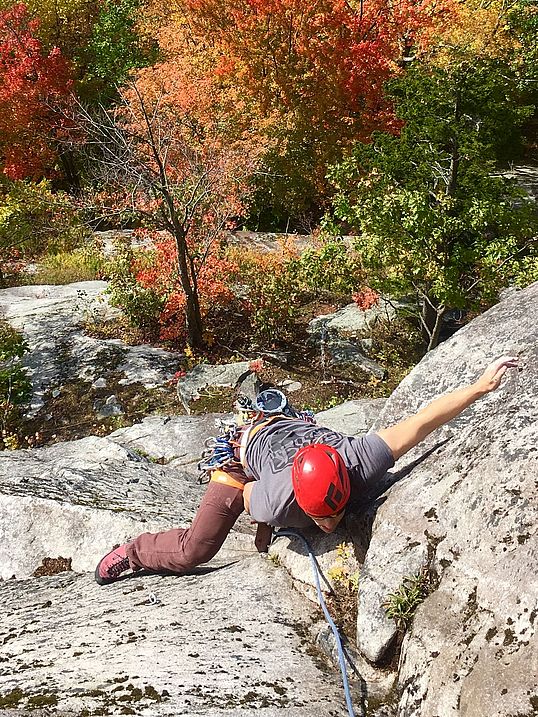 At first blush, Vermont is something of the shy wallflower at the Northeastern climbing party—but with the appropriate introduction, you'll quickly see the potential within. Numerous schist crags pepper the Green Mountain's flanks, offering those new to rock climbing a perfect environment to explore all the sport has to offer—and some difficult test pieces for the higher-end climber. Those looking for heightened multi-pitch challenges will be surprised to learn what's available as well. The recently published Tough Schist guidebook has opened up Vermont's potential to people, but the cliffs still offer a special serenity. Our favorite destinations include:
Bolton—Only twenty minutes from Burlington's downtown, Bolton is an easily accessible area with a range of rock for all kinds of climbers. Lower West Bolton is popular for its accessible top-rope set-up options in the 5.6-5.11 range and an excellent place for rock rescue clinics and other workshops. Upper West Bolton is home to iconic crack climbs The Rose and The Thorn, testpieces for climbers trying their higher end trad leading. Bolton Dome offers a wide diversity of styles and grades of climbing, with some popular ones being Jamathon (5.7+), Welcome to Bolton (5.10b), and the 3 pitch Work Shoes (5.7). And while best known for ice climbing, the Bolton Quarry is peppered with challenging sport routes. In between these major crags there are peppered an array of cliffs like Carcass Crag, 82 Crag, and more waiting to be explored.
Smugglers Notch—The positioning of the multi-pitch climbing in Smugglers Notch is unsurpassed, whether hanging from a cliff in an autumn riot of color or gazing at Mansfield's rugged summit during "stick season." Quartz Crack (5.9) serves up 3 pitches of excellent face and crack climbing, complemented by 2 pitch The Diagonal (5.8) and 3 pitch Flight of the Manatee (5.10) nearby. Across the valley, Elephant's Head Buttress (sandbagged 5.9+) pushes you to the max, with finger, fist, and stacking moves that will move your crack climbing into another league. The Buttress is also home to the stellar high-end Ganesh, with 4 pitches of climbing up to 5.11d. A short drive down the valley is Prospect Rock, with welcoming single-pitch climbs like No Eyed Deer (5.4) and Bee's Crack (5.8).
Marshfield Ledge—A remote and secluded feel pervades the climbing adventures at Marshfield. While the left side of the cliff is known for tricky granite slab climbs, the right side has an ever-increasing number of steeper crack climbs. Multi-pitch favorites include The Swarm (5.10), a tantalizing mix of low-angle, face, and crack climbing, and true-to-its name, Marshfield Corners stemming corners and pumpy cracks give one a feel of climbing at Yosemite—except there aren't any moose at Yosemite and you just might see one climbing here!
Wheeler Mountain—Tucked up in the Northeast Kingdom, on this granite dome high-quality friction climbing is the name of the game. There are few better ways to develop good climbing style than learning the balance lessons that friction teachers. Our favorite multi-pitch is The Great Route. The name gives it away; several pitches of 5.8 crack and 5.10c friction culminate in the masterpiece, a perfect leaning open-book corner of 5.10b crack and foot-smearing climbing bliss. VJ (5.7) offers a similar style of climbing in the same pristine setting, looking out to the shores of Lake Willoughby. Moosehead Crack offers excellent top-roping in the 5.7-5.10d range.
Click here to return to the Rock Climbing Adventures page.
Click here for a complete Clothing & Equipment List and to learn a bit more about what a day of rock climbing adventures looks like and how to best prepare.
When you're ready to book your Vermont Rock Climbing Adventure dates, please go to our Scheduling Page!