Main content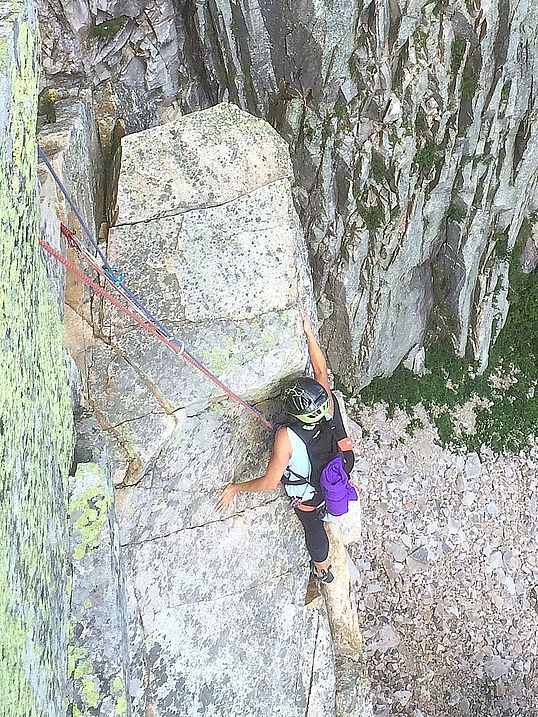 New Hampshire Rock Climbing
They call New Hampshire the "Granite State" for good reasons…very good reasons. Tucked in the forests of the state's White Mountains you'll find myriad classic crack and face single pitch climbing options. Soaring up above the trees, granite walls offer climbers at all levels in their climbing progression with multi-pitch opportunities to explore the vertical world from a new and higher perspective. Some of our favorite single and multi-pitch options include:
Franconia Notch—Echo Ledge and Artist's Bluff are the perfect places for groups to enjoy a rock outing. Crack and face climbs ranging from 5.6-5.11 are lined up one after another, allowing for a lot of climbing and group interaction. Solid rock, ease of accessibility, and quality routes make this a fine climbing choice—and the top-out views of Cannon Cliffs in the distance are the icing on the cake, providing one with inspiration for years of climbing to come.
Cannon Cliff—The Whitney-Gilman arête (III, 5.7) stands out like a knife blade along the southern end of Cannon's 1000' wall. With golden granite crack and face climbing and intense exposure, this climb holds a place in the hearts of every aspiring Northeastern climber. North on the cliff, Moby Grape (III, 5.8) offers similar quality at a slightly higher grade, while Lakeview's (III, 5.5) lower angle slabs provide an inviting option for climbers just beginning to explore the multi-pitch world. Across the valley, the Eaglet (5.6) stands as the East Coast's tallest free-standing column; two pitches of climbing brings you to its vertiginous peak.
Mount Washington—Huntingtons Ravine offers a splendid alpine setting in which to enjoy your climb. Arriving at the base of this gigantic bowl, you are presented with options ranging from the well-known (and loved) Pinnacle (III, 5.7-5.9) to the little-traveled (but well worth it) Henderson's Buttress (III, 5.4). After six to eight pitches of climbing, you'll arrive at "The Alpine Garden," a picturesque meadow jumbled with rocks, krumholtz, and alpine grasses. If time permits, we can even continue up to the top of Mt. Washington, enjoying a successful summit of this noted Northeast peak via its most technical routes.
Cathedral Ledge—Several chapters of climbing history have been written on the walls of Cathedral. Looming over the town of North Conway, the cliff's accessibility and clean lines have made it a Mecca for climbers throughout the ages. Thin Air's (II, 5.6) diverse blend of crack and face climbing, the airy and hairy traverse out onto Recombeast's (III, 5.9) amazing flake, or cruiser slab climbing up the Beginner's Route (II, 5.5) on the neighboring Whitehorse Ledge—Cathedral has something for climbers of all experience levels and interests. Check out the recent guidebook North Conway Rock Climbs for a look at all this area and the Mt. Washington Valley region offers.
Click here to return to the Rock Climbing Adventures page.
Click here for a complete Clothing & Equipment List and to learn a bit more about what a day of rock climbing adventures looks like and how to best prepare.
When you're ready to book your New Hampshire Rock Climbing Adventure dates, please go to our Scheduling page!