Main content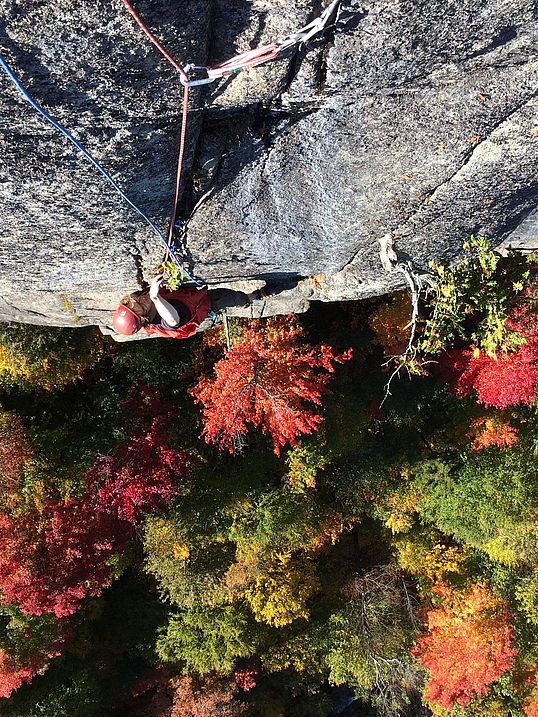 If you took Yosemite National Park, added in Yellowstone, Glacier, The Grand Canyon, and the Great Smoky Mountain National Park to boot, you still wouldn't quite match the area of the Adirondacks. That should give you a sense of the potential that awaits you in this space of coniferous woodlands, immense rock slide scars, towering cliffs, and craggy peaks. While the scale of the 'Daks makes it easy to find a remote place of your own, there is also an incredible amount of climbing with easy access from the roadside, making an Adirondack vacation an excellent climbing choice. You'll frequently find us at the following favorite spots:
Infinite Crags—Cast a glance in any direction of the Adirondacks, and you'll find a crag worth climbing. We particularly enjoy Deadwater, The Beer Walls, and Spider's Web for the sheer quantity of climbing they pack into their faces. Though the choices are endless, you really can't go wrong with your crag climbing choices in the 'Daks.
Poke-O-Moonshine—Just off New York's "Northway," Poke-O offers quick access, stunning lines, and unforgettable vistas out across Lake Champlain and Vermont's Green Mountains. The cliff is steep and many of the lines run into the 5.12 zone, but multi-pitch lines like Fastest Gun (5.10a), Bloody Mary (5.9), and Gamesmanship (5.8) offer hundreds of feet of vertical fun in a more accessible range.
Chapel Pond Area—Chapel Pond Slab has several intriguing routes in the 5.5-5.7 range that travel over eight hundred feet of vertical terrain. Across the way, the Upper Washbowl beckons to those with steeper climbing in mind. Multi-pitch classics like Weisner Route (5.6), Hesitation (5.8), and Partition (5.9) are all solid choices.
Pitchoff Chimney Cliff—The exposure offered on routes like Pete's Farewell (5.7) and The El (5.8) definitely provide some pucker factor, with the Cascade Lakes shimmering below your dangling feet. Equal exposure and stouter climbing can be found on Coffee Achievers (5.10) and Star Sailors (5.10c). What's more, all of these are found only a ten-minute walk from the road, making it easy to combo these climbs with a visit to another area.
Hurricane Crag—High up the mountainside, Hurricane Crag provides spectacular views of the High Peaks. Quadraphenia (5.7+) is the classic three-pitch that brings people here, but we find the "The Old Route" (5.3) to be equally as impressive—climbing inside a cobblestone laced chimney with a keyhole exit, followed by two more pitches to the sweeping views up top.
Silver Lake—Silver Lake is one of the newer areas on the Adirondack rock climbing map and it's quickly becoming one of our favorites. If you're looking for impeccable face climbing, check out climbs like Honeybadger (5.10a) at the Shangra-La area. Clean, stout cracks are in abundance at The Prow, with favorites like The Great Northern Driver (5.10d) and Green Mountain Boys (5.10a). Whatever the style and whatever the climb, the answer at Silver Lake is always "high quality".
The Adirondack Slides—Throughout the 'Daks, steep hillsides have been stripped to their rocky bones by ages and ages of slides. Their rocky inclines provide technically challenging and adventurous avenues to impressive summits that allow you to gaze out over the Adirondack's vastness. Eagle Slide stretches its 1300' wing of 4th Class mountaineering to the summit of Giant Mountain. Tucked even deeper into the 'Daks wilds, the Gothics' North and South Faces offer everything from 4th Class mountaineering scrambles to stout 5.10 finishes that land you right near the summit.
The High Peaks—Right in the middle of Mt. Colden, slashing from its 4,715' summit down to the pristine Avalanche Lake, is the ragged cleft of Trap Dike. A series of rock steps take you ever higher into the narrowing corridor, finally exiting out onto the expansive slabs overlooking Colden and Avalanche Lakes. A classic mountaineering adventure. Also on the shores of Avalanche Lake you'll find the classically-positioned California Flake (5.9), offering hundreds of feet of crack adventure. Off to the west lies the steep sweep of the aptly titled Wallface Mountain. On its left side you'll spy the signature leaning corner of Diagonal (5.8). Pitch after pitch of alpine adventure get you ready for the last two pitches of full-tilt pulling to the top. But the adventures not over, several full-length rappels and then a 6-mile hike back to the car are all a part of this one-to-two day adventure.
Click here to return to the Rock Climbing Adventures page.
Click here for a complete Clothing & Equipment List and to learn a bit more about what a day of rock climbing adventures looks like and how to best prepare.
When you're ready to book your Adirondack Rock Climbing Adventure dates, please go to our Scheduling page!