Main content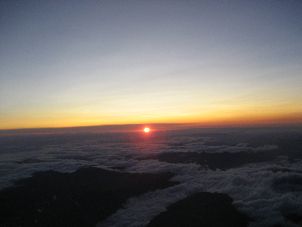 Mexico Volcano Mountaineering
Detailed Trip Description
Mountaineering amongst the high altitude peaks and snowfields of Malinche (14,646') and Pico de Orizaba (18,490') offers an amazing blend of culture and challenge. Mystery and lore have surrounded the Mexican volcanoes since the time of the Aztecs. Perched just outside the modern mega-tropolis of Mexico City, today the volcanoes exhude a similar sense of mystery and allure to its urban people.
Our adventure begins in Puebla. Though it is Mexico's fifth largest city, it hasn't lost it's colonial charm. We'll stay the first night outside of Puebla at an old historic fort, then head up to the base of La Malinche to acclimatize, get oriented, get acquainted, and enjoy the view of the surrounding countryside from ten-thousand feet. The next morning we'll head up toward La Malinche's summit. This hike takes us up through a variety of high-altitude forest ecosystems, and though it is a hike for most of the way, the altitude makes it a much more formidable challenge. As we ascend the slopes, forests give way to chapparel and then to talus and snow. No matter how high one chooses to go on this acclimatization experience, it provides both stunning perspectives on the Mexican countryside and valuable physical preparation for the challenge ahead.
Tired and satisfied from our time with La Malinche, we'll head into the welcoming arms of the Reyes family in Tlachichuca. For two generations the Reyes family has been helping climbers toward their Mexican mountaineering goals and they'll be a vital part of our experience. Based out of a quirky converted soap factory, the Reyes household offers dormitory quarters, logistical support, and fantastic food to fuel us forward (http://www.servimont.com.mx).
In order to gain greater acclimatization advantages and to enjoy the unique cultural and ecological perspectives that our positioning offers, the next day will be offered to either exploring mid-altitude ancient ruins or hiking up the eastern flanks of Orizaba. After arriving back at the Reyes home, we'll ready for the upcoming Orizaba adventure. In the process of trip preparation you'll have the opportunity to explore Tlachichuca—despite its situation as a launch point for mountain expeditions, it remains a rather unaffected and very honest Mexican town.
Equipped and ready, we'll board Senor Reye's sturdy vehicles for the trip up the narrow tracks to the Piedra Grande hut (14,380')—hang on tight! The Piedra Grande hut is a large stone hut that offers rudimentary accomodations to all summit aspirants. Cooking our dinner over camp cookstoves and bedding down in the three-story plywood bunks, we'll get what sleep we can for the acclimatization day ahead. After waking and refueling, we'll hike to 15,000', then go over some important rope travel and snow self-arrest skills. That night we'll do our best to go to sleep, getting what shut-eye we can before waking in the wee-hours to head out and up. The summit push will begin under the glow of headlamps, navigating up the rocky gully leading to the Jamapa Glacier. About the time we arrive at the glacier, the rosy fingers of dawn will be glowing their glory. As we head up, Orizaba's bulk casts a surreal shadow over the horizon below us—truly a unique experience, and one to inspire you for the difficult push ahead. Higher and higher, the air becomes thinner and thinner—one foot in front of the other becomes a monumental task—and the value of all your previous training becomes clear! Topping out, emotions and reactions oscillate between tears, cheers , vomiting, and awe—a mix of emotions that can be both overpowering and grounding.
We've only arrived at half-time when we've arrived at the summit, and it still remains everyone's responsibility to get us safely back down. With a blend of satisfaction and vigilance, we'll head down the flanks of Orizaba to the Piedra Grande Hut, enjoying the views that nightfall had obscured. If the weather for our previous summit attempt didn't work out, or if others in the group felt sufficiently ready to try the summit again, we would use the remaining day to attempt the summit again. Otherwise, we'll pack up our camp at the Piedra Grande Hut and head back to Tlachichuca—and the Reyes family! Once ensconsed, we'll relax with an exquisite meal and some well-earned rest.
When the sun rises, we'll enjoy a leisurely breakfast and head toward Puebla. Puebla's center city offers an extravaganza of colonial charms to explore and a great zocalo (center area) to sit and watch the world go by while you massage sore mountaineering muscles. The entire Mexican mountaineering experience is a challenging one—cultural encounters coincide with physical preparations, personal and group interactions, and physiological altitude adaptations—each of us will respond in our own unique way. Together, at the culmination of this personal and group experience we'll gather together to savor the moment that the Mexican volcano mountaineering experience offers.
*This is only a sample/suggested itinerary. We are happy to work with you to customize a trip to your own personal priorities and objectives. Feel free to connect with us if you've got any questions about the nature of the trip, the elements involved, or any other aspects. We do look forward to sharing this unique, international climbing experience with you!
Click here to return to the Mexico Volcano Mountaineering page.
For a look at our suggested clothing and gear for the Mexico Volcano Mountaineering experience, click here.
When you're ready to book your International Climbing Adventure dates, please go to our Scheduling page!