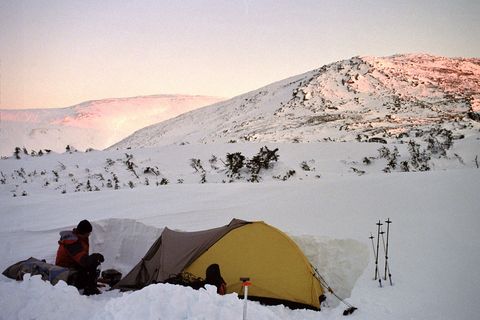 The Winter Presidential Traverse
The Experience
Spanning over 20 miles and three days the Presidential Traverse takes one past and—weather permitting—onto the summits of eight peaks. The Presidential Range is home to the world's highest winds and in the winter months temperatures regularly plunge well into the negatives even on a sunny day. During the course of the traverse, you will travel above tree line in extreme conditions and camp in spectacular locations. This experience demands a high level of physical fitness and an aptitude for winter mountain travel, and it offers the opportunity to hone skills in efficient movement and camping in exposed alpine situations. While the technical challeges are low in one sense—there is no roped travel or high-angle crampon terrain—it is technically challenging in another sense, forcing you to get your alpine travel and living skills dialed (i.e., tent set-up in high wind, stove use, melting snow-water, building wind barriers, etc--all in extreme conditions). The crown jewel of Northeastern climbing in its own right, the Presidential Traverse is also an excellent training ground for those considering a Denali climb—in fact, many people who have done both think it's the other way around!
Click here for additional information on Winter Presidential Traverse Logistics.
Scheduling
Winter Presidential Traverses are offered on a custom basis for individuals and groups of up to four. Larger groups can be accomodated with advance notice. Pricing for the Traverse is listed below; because a Winter Presidential Traverse is very weather dependent, you may wish to consider adding an additional "weather-flex" day (daily rates can be found here), that way we can find the best weather window. Whether that flex-day occurs at the beginning or end of the Traverse, we will make sure it is a value-packed day customized to your interests—alpine ice, vertical ice, mountaineering training, avalanche awareness, and more—connect with us to explore the options.
Pricing
1 person: $1500
2 people: $995
3 people: $855
4 people: $740
Prices include
All individual hardware (boots, crampons, axes, avalanche transceivers, and helmets if desired). You will need to have or rent your own snowshoes (rental is available in North Conway, NH).
Group gear (stoves, cook gear, tents, etc).
You will need to bring all individual clothing and equipment found on the Clothing & Equipment List.
We've found it best that people plan their own menus. You can find useful information about that on the Logistics Sheet. After reviewing the sheet, do let us know if you have any questions.
Exploring the web, you'll find a range of prices offered for the Presidential Traverse. In making your comparisons, it is important for you to consider the whole range of variables that go into the pricing for an adventure of this scale. Among the so many other factors to consider are:
Guide Training & Qualifications: What are the teaching and leadership qualifications of your guides? All of our Presidential Traverses are led by Kel Rossiter is an American Mountain Guide Association (AMGA) International Federation of Mountain Guides Association (IFMGA) Certified Mountain Guide. This is the highest and most rigorous level of training and certification attainable for climbing guides. This process takes years of training and examination. To learn a bit more about the process, click here.
Personal Communication: How much communication will your guide service provide in helping you to best prepare for your adventure? You can call and talk directly with your guide anytime. We pride ourselves on being there as your guide throughout the entire adventure process, from preparation, to the event, to moving onward and upward after that!
Skilled Professional Coaching: Will you be communicating with office staff or your actual guide? When you contact us, you'll be speaking directly with the guide you'll be climbing with, a guide who works in the field full-time and is familiar with the particulars of your adventure, and can help you best prepare for it.
No Added Travel Costs—Many of the other prices you'll find on-line also tack on an additional fee to cover guide travel costs. That is not the case with Adventure Spirit—the per-day price is the price you'll pay per-day, that's it.
Taking into account these and other factors, we believe you'll find Adventure Spirit to be the optimal value. If you have any questions regarding what sets our services above the rest in terms of performance and pricing, please contact us to learn about the Adventure Spirit edge.
Clothing & Equipment Philosophy
Clothing
There is no "one" clothing system that works. The key is to think in terms of three layers: wicking, warmth, and weather. The wicking layer (polypro or wool) is a thin layer that gets moisture away from the skin, where evaporation cools it quickly. The warmth layer (fleece, knit wool, or fill) creates dead air space that captures the body's radiant heat. Finally, the weather layer (Gore-tex or Schoeller type fabrics) blocks outside moisture and wind while still allowing the body to ventilate. In the White's winter environment another final layer is useful; often called a "belay jacket," this layer is a puffy fill or down jacket that one puts on for quick periods while taking a break.
Equipment
The renowned mountaineer Yvon Chouinard once said, "If you bring a bivvy bag, you'll use it." While bringing a bivvy bag is sometimes a good idea, the point remains the same—the more you bring, the longer you'll take, and the longer you take, the more you need to bring. It is of the essence on the Traverse that you bring only what you need and nothing that you don't. As another famous adventurer, Antoine de St. Exupery, said, "Perfection is achieved, not when there is nothing more to add, but when there is nothing left to take away." Mountaineering demands a constant vigilance regarding what is brought and what is used, and this changes continually, depending on the climbing objective, current conditions, and human factors. If you bring these ways of thinking into packing your Presidential Traverse pack, you will likely end up with a pack in the 40lb zone.
For specifics regarding clothing & equipment, please click on the Presidential Traverse Equipment and Clothing List. We are always happy to speak with you directly regarding questions you may have.
Cancellation & Change Policy
Our cancellation and change policy helps our guides with job security. Guides with job security are able to make a career out of it, and hence, excel at it. With that in mind, Adventure Spirit maintains the following cancellation and change policies.
General
A 30% non-refundable deposit secures your adventure dates.
Full payment is requested no later than 30 days before your adventure.
Weather Cancellation & Changes
The Presidential Traverse is often prone to challenging weather. We will attempt to continue the Traverse as long as it is reasonable to do so. If our guides determine it is unreasonable to continue forward with a Traverse based on current weather conditions and/or forecasts we will work with you to develop an alternative plan that best addresses your adventure goals, given the conditions (e.g., alpine training in Huntington Ravine, ice climbing in the valleys, etc). It is quite common that the weather forecast is "iffy," in which case we will move forward with the Traverse. If, once the Traverse has begun, it is necessary to change plans due to weather, our guides will work to find suitable objectives for the time that remains.
Personal Cancellations & Changes
We maintain the following policies for personal cancellations:
A 30% non-refundable deposit secures your adventure dates.
Full payment is requested no later than 30 days before your adventure dates.
We strongly encourage everyone to consider purchasing travel insurance. Click here for a link to one company we've used in the past.
Fitness & Liability/Release Forms
For all of our rock, ice, and alpine adventures, please review the following documents prior to your adventure. At the start of your adventure, we will ask you to fill out and sign copies of these forms. These forms are required by our insurance company and these forms help us in together creating a positive and safe experience. If you have any questions or concerns regarding your health and fitness and the particular adventure in which you plan to participate, please contact us well in advance of your adventure, so that we can discuss ways to move forward most safely and successfully.
When you're ready to book your Winter Presidential Traverse Adventure dates, please go to our Scheduling page!