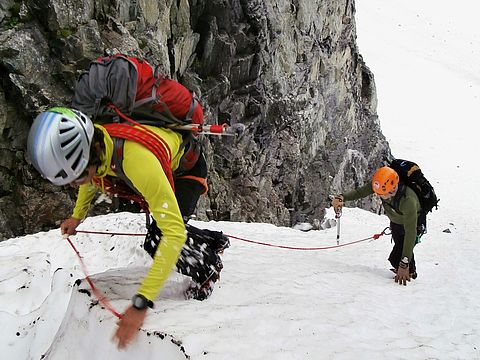 Putting Your Adventure Together...
About Guide Pricing
Before checking out pricing, it is useful to consider what that pricing provides. Exploring the web, you'll find a range of prices offered for guided climbing days. In making your comparisons, it is important for you to consider the whole range of variables that go into the final pricing—and the final experience. When comparing pricing, among the many questions to consider are:
How much communication will your guide service provide in helping you to best prepare for your adventure? We pride ourselves on being there as your guide throughout the entire adventure process, from preparation, to the event, to moving onward and upward after that!
Will you be communicating with office staff or an actual guide? When you contact us, you'll be speaking directly with a guide who works in the field full-time and is familiar with the particulars of your adventure, and can help you best prepare for it.
What equipment is included as a part of your adventure? All necessary hardware is included in your adventure with us.
What are the teaching and leadership qualifications of your guides? Our guides are as passionate about climbing as they are about sharing climbing with others. And they take their professional development seriously—all of our guides have training through the American Mountain Guides Association. Click here to see a few reasons why this matters. They have worked to not only advance their climbing skills, but to develop their instructional abilities so as to advance your climbing skills.
Taking into account these and other factors, we believe you'll find Adventure Spirit to be the optimal value. If you have any questions regarding what sets our services above the rest in terms of performance and pricing, please contact us to learn about the Adventure Spirit edge.
Pricing Options
1 person: $325
2 people: $195 per
3 people: $155 per
4 people: $135 per
Pricing Options—Large Objectives
Large days with technical objectives and guide/instruction from American Mountain Guide Association (AMGA) Certified Alpine&Rock Guide Kel Rossiter, have the following pricing options:
1 person: $345
2 people: $205 per
3 people: $165 per
4 people: $145 per
AMGA certified guides have committed to excellence in their profession. Click HERE for a look at some of the value that AMGA certified guide/instruction offers.
Additional Pricing Options
Half-days—For some activities and venues, half day rates can be arranged as well—contact us for details.
Large Groups—For larger group adventure options (more than 4 people), please contact us to discuss your adventure aspirations and the options and pricing available.
Longer/Custom Trips—Pricing for our multi-day trip offerings such as the North Cascades, Winter Presidential Traverse, or Mexican Volcano Mountaineering can be found on the pages describing each trip. And if you have a specific multi-day objective in mind, contact us to discuss pricing options.
Cancellation & Change Policy
Our cancellation and change policy helps our guides with job security. Guides with job security are able to make a career out of it, and hence, excel at it. With that in mind, Adventure Spirit maintains the following cancellation and change policies.
General
A 30% non-refundable deposit secures your adventure dates.
Full payment is requested no later than 30 days before your adventure.
Weather Cancellation & Changes
As you probably know, the weather in the Northeast can be fickle. As the saying goes, "There typically is no such thing as bad weather, only bad preparation," and we will assist you in being prepared for the weather and activities of the day. If our guides determine that it is unreasonable to continue with your chosen adventure based on current or forecasted weather (and avalanche conditions in some cases), they will attempt to contact you as quickly as possible to present and discuss suitable alternative adventure objectives. If the weather is clearly deteriorating and we must cancel the day's activities, you can reschedule your adventure for up to one year from the original date planned.
Personal Cancellations & Changes
We maintain the following policies for personal cancellations:
For cancellations made more than two weeks from the adventure start date, 30% of the adventure fee is non-refundable and the remainder will be issued as adventure credit valid for one year.
For cancellations made less than two weeks from the adventure start date, 50% of the adventure fee in non-refundable and the remainder will be issued as adventure credit valid for one year.
For cancellations made less than one week from the adventure start date, there are no refunds or credit given.
We strongly encourage everyone to consider purchasing travel insurance. Click here for a link to one company we've used in the past.
Fitness & Liability/Release Forms
For all of our rock, ice, and alpine adventures, please link to the documents below and review them before our adventure. Your guide will bring copies for you to review and sign on the climbing day. These forms are required by our insurance company and these forms help us in together creating a positive and safe experience. If you have any particular questions or concerns regarding your health and fitness and the particular adventure in which you plan to participate, please let us know.
Declaration of Fitness Form
Release of Liability & Assumption of Risk Form
Headgear Refusal Agreement (for specific alpine mountaineering events)