Main content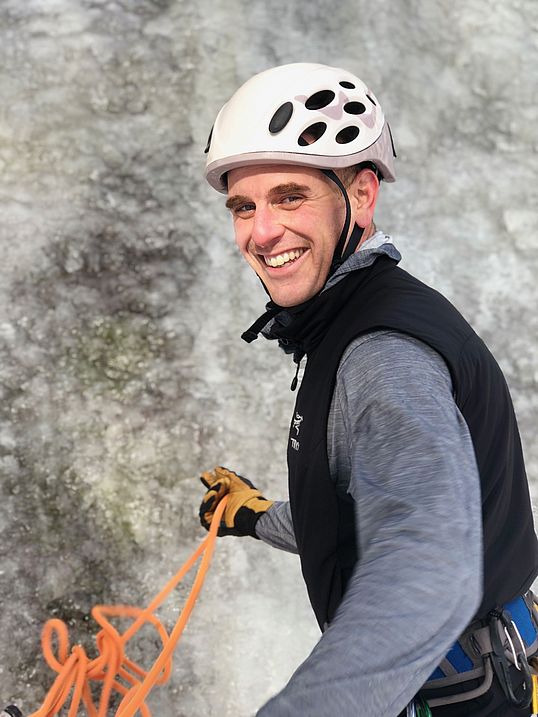 Toby Arnold
Rock+Ice+Alpine Guide
Toby Arnold's greatest passion is sharing outdoor experiences--and the challenges they involve--with others. His career as an outdoor educator and guide began in 2004 through leading sailing and sea kayaking expeditions around the west coast of the United States and in the Caribbean. In 2007, Toby graduated from Evergreen State College with a Bachelors in Wilderness Education. His love and work on the ocean has brought him sailing and paddling in Alaska, Hawaii and the Caribbean.
After years of climbing in the Northeast, Toby began guiding in the mountains of New England and developed his deep passion for bringing individuals to new heights in all seasons, but especially in winter. Since then, Toby has dedicated his professional development to pursuing his ice, rock and alpine climbing skills and education. Toby is a passionate adventurer dedicated to lifelong learning and exploration. This adventure has taken him climbing in the Bugaboos of BC, the North Cascades, Quebec and any frozen drip or chunk of rock he can find in the hills of New England. Toby has first ascents on ice, rock and aid routes in the Maine woods and hollows of New Hampshire.
In 2011 Toby became the Program Director of Wilderness Education for Rippleffect; a youth based non-profit in Portland ME. He has served as the organizations lead trainer of field staff, developed their expeditionary programs, trainings and risk management protocols. Teaching has been at the core of Toby's work in the outdoors.
Toby lives in Standish ME with his wife Shannon and his two sons; Silas and Harrison – his core adventure partners!
Trainings & Certifications
American Canoe Association Level 3 Instructor Trainer – Coastal Kayaking
American Canoe Association Level 4 Instructor - Open Water Kayak
100 Ton International USCG Captains License
Maine Trip Leader Instructor Certified
Registered Maine Guide
Wilderness First Responder
First ascents including: Lemon Bar, WI4 & Lemon Rind, WI4/M2, Limerick ME; Maholo, 5.10b, Albany, NH; Shelter in Space, 5.7/A2+, Baldwin ME; One With the Force, 5.9/A3, Passaconaway NH; Buck Wild, NEI 4/M5, Baldwin ME; Winter Gray and Falling Rain, NEI 4+/M4, Baldwin ME