North Cascades, Mt. Shuksan, & Mt. Baker Climbing Adventures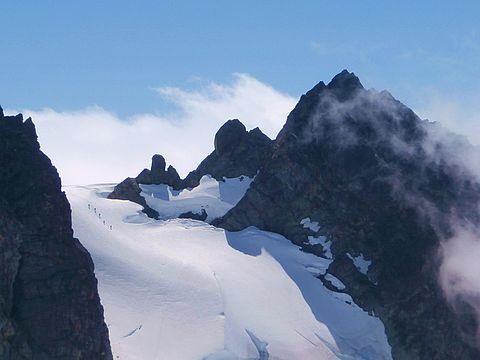 The North Cascades is a wildly stunning alpine gem, with rock, ice, and glacial objectives to challenge any climber. The North Cascades National Park is home to "50 Classics" like the Torment-Forbidden Traverse, as well as less-traveled peaks like Eldorado, Mix-up, Triumph, and more. Mount Shuksan is the "American Matterhorn", a classic rock pyramid surrounded by swaths of glacial snow, with ice/mixed routes like the North Face, rock/snow routes like the Fisher Chimneys, and stellar climbing by any route once on the summit pyramid has been gained. Mount Baker, home to the biggest snowfall in the Lower 48, offers ample alpine challenges; popular options include the glacial route up the Coleman-Deming or summertime ice climbing via the North Ridge.
Please review the information regarding our Custom Cascades Climbs below...
Putting Together Your Customized Cascades Adventure
If you've got a particular Cascades objective in mind and want to get dates on the calendar, or if you'd like to discuss the array of options that exist and select one best suited to you, connect with us now.
Our Cascades-specific scheduling, payment, and policies information appears below. Please be sure to review it.
Reserving Your Cascades Dates
Our Cascade season runs May-August. Please connect with us regarding your dates to confirm availability. Your dates are reserved once we receive a non-refundable 30% of the total adventure costs (or the full costs if your adventure is less than 30 days away). Payment can be made via:
Paypal transfer to adventurespiritguides@gmail.com. If paying via this method, please click on the "I'm sending money to family or friends option", as this eliminates transfer fees.
Check payable to "Adventure Spirit LLC" mailed to: 83A North Champlain Street, Burlington, VT 05401
Please review our Cancellation & Change Policy listed below.
Please also review the Declaration of Fitness and Release & Assumption forms links appearing below. If you have any questions regarding your health and fitness as it pertains to the adventures we are planning, please contact us to discuss those specific concerns. We will bring paper copies of these forms with us on the day of the adventure for you to review and sign.
Pricing Options
Our per-day Cascades custom guiding and instruction rates are as follows:
1 person: $395
2 people: $275 per
Larger groups: Please contact us to discuss rates/options
About Our Pricing
Apples to Apples—You will find a variety of rate schemes listed for various guide services, but regardless of how you do the math, you will find our rates to be the most competitive. Be sure you're comparing "apples to apples", by paying attention to the following things...
Guide Training & Qualifications—All of our Cascades trips are led by an American Mountain Guides Association Certified Rock and Alpine Guide. This ensures the highest level of professionalism and expertise in the guiding and instruction you receive.
No Added Travel Costs—Many of the other prices you'll find on-line also tack on an additional fee to cover guide travel costs. That is not the case with Adventure Spirit—the per-day price is the price you'll pay per-day, that's it.
No Added Overnight, "Long Day", or Other Costs—You'll also find that some services add on overnight fees or extra charges for long days or big objectives. Once again, that is not the case with Adventure Spirit—the per-day price is the price you'll pay per-day, that's it.
Cascades Cancellation & Change Policies
We plan our Cascades season and related travel based on our anticipated work calendar. This scheduling takes place months in advance of the summer season. Our cancellation and change policy helps our guides with job security. Guides with job security are able to make a career out of it, and hence, excel at it. With that in mind, Adventure Spirit maintains the following cancellation and change policies specific to Cascades adventures.
General
A 30% non-refundable deposit secures your adventure dates.
There are absolutely no refunds or credits given for any reason on your deposit once your deposit has been made.
Full payment is requested no later than 60 days before your adventure.
Policies regarding refunds/credits of the 70% remainder are described below.
Weather Cancellation & Changes
Northwestern weather can be variable, but as the saying goes, "You can't win if you don't play." All scheduled Cascades trips will take place regardless of the weather and, as necessary, we will consult with you and adjust to make best use of the given conditions. These adjustments may include an overall change of venue if it is unreasonable to continue with your chosen adventure based on current or forecasted weather, avalanche conditions, or route conditions.
Personal Cancellations & Changes
We maintain the following policies for personal cancellations on Cascades trips:
There are no refunds or credits given on the 30% deposit.
For any cancellation made 60 or more days in advance, we will return the entire portion of the 70% remainder that has been paid.
For any cancellation made 30 or more days in advance, we will return 50% of the 70% remainder that has been paid.
For any cancellation made less than 30 days in advance of the trip, no portion of the 70% remainder that has been paid shall be refunded or credited.

.
We strongly encourage everyone to consider purchasing travel insurance. Click here for a link to one company we've used in the past.