Vermont Alpine Climbing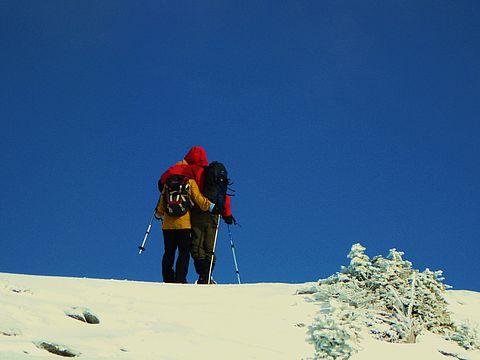 Nestled between the Adirondacks and the White Mountains, Vermont's Green Mountains offer alpine challenges of their own—not to mention, stunning views of both on a clear day! There are five Vermont peaks over 4000'. Though these peaks see plenty of hiking—and even driving!—traffic in the summertime, in the winter it is a much different scene. Windswept rime ice clings to craggy peaks where you often stand alone, looking down on the snow-covered valley floor and out through the crisp winter air to Lake Champlain, the Adirondacks, and even the White Mountains far beyond. Our favorite winter peaks and climbs include:
Mount Mansfield—At 4393' Mount Mansfield is Vermont's highest point. It's proximity to Stowe makes it a perfect winter climbing objective in tandem with a ski vacation. Rising up out of the village's valley, you'll ascend the steep Hell Brook Trail until meeting the ridgeline and then head south for a rock-scrambling finish to the jutting summit, "The Chin." There are skiers only a mile distant, but often only you on the summit, enjoying what few can claim—a winter Mount Mansfield ascent.
Camel's Hump—South of Mount Mansfield, the large swell of Camel's Hump (4083') arcs into the sky. Approached from either the west or the east, a trail winds through birch stands and mixed hardwood forest, up into an alpine zone of wind-twisted conifers. Ultimately, the hardy mountaineer is left to launch onto the Hump's rocky top for a push to the summit. Panoramic views in all directions provide a welcome reward, as well as inspiration and memories for a long time to come.
Smugglers Notch—Many of the ice climbing objectives in Smugglers Notch are combine alpine and ice pursuits. One of our favorites is Easy Gully (WI1-2). Don't let the name fool you—ascending this gully demands cramponing over rocky terrain, up through snowfields and ice bulges, until topping out at a col that provides a stunning view of Stowe below. Descending the slope is equally challenging and often involves a rappel. This is just one of several options in the Notch that provide for an engaging outing and an excellent opportunity to build technical mountain skills like French technique cramponing, using axes on ice, and roped travel.
When you're ready to book your Vermont Alpine Climbing Adventure dates, please go to our Scheduling Page!