Guided US Highpoints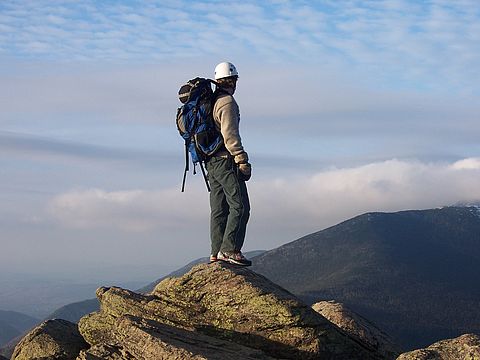 In the course of our climbing, we've met many people with their sights set on summiting the highest point in each of the fifty states. Many of these climbers are members of the Highpointers, an organization dedicated to that objective. We applaud these people in their efforts to stay fit, explore the country, build climbing friendships, and experience the many ecosystems the pursuit involves, and we enjoy working with them toward these ends. Many Highpointers seek to heighten the challenge of their Northeastern highpoints via winter summits (Mt. Washington, Mansfield, Marcy, and Katahdin) or to train for the US's highest highpoint, Denali, via longer trips like the Presidential Traverse in New Hampshire. We specialize in these pursuits. Additionally, for many of the remote and technically challenging western highpoints, such as Mt. Whitney, Mt. Hood, Kings Peak, and Gannett Peak, we can partner with permitted operators to put together your highpoint adventure. Lastly, if you are considering summits of Mt. Rainier or Denali, Adventure Spirit Lead Guide & Owner Kel Rossiter works with Rainier Mountaineering Incorporated (RMI) in the summers and is happy to discuss these summits and how RMI can help you in your climbing ambitions.
Contact us to discuss your Highpoint pursuits personally—we applaud your goal and look forward to assisting you with it!