US-Based Climbing Adventures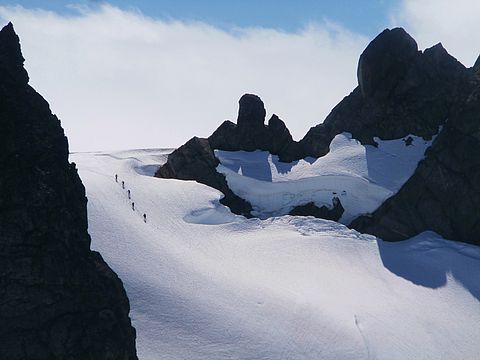 Operating with affiliated guide companies and independently, Adventure Spirit can offer you adventure climbing opportunities in select United States locations. Below are some of our most popular. If you have a specific adventure objective in the United States or internationally please contact us and we'd be happy to partner with you in accomplishing it.
Cascades Range, Washington
In the summertime, Lead Guide/Owner Kel Rossiter works in the Cascades and Alaska guiding with Adventure Spirit and serving as a Senior Guide with Rainier Mountaineering Incorporated (RMI).
North Cascades: This gem offers an immensity of alpine climbing challenges. Some favorite rock objectives include the West Ridge of Forbidden, Sharkfin Tower, and Mix-up Peak. Ice climbers looking for an alpine setting are drawn to Mt. Baker's North Ridge. And those looking for an all-out array of alpine climbing styles and techniques are drawn to the Torment-Forbidden Traverse, the North Ridge of Forbidden, and just about any aspect of Mt. Shuksan. For more information about North Cascades options, pricing, and logistics, click here.
Mount Rainier: Rainier is typically climbed via the Disappointment Cleaver or Emmons Glacier routes. Those looking to heighten the summit challenge opt for the Kautz Glacier or even Liberty Ridge routes. Whatever path you choose to Rainier's summit, Rainier Mountaineering Incorporated's (RMI) leadership is skilled in helping you to get there. RMI also leads clients on international and "Seven Summits" routes. Contact us for more information or connect directly with RMI.
Mt. Katahdin, Maine
Katahdin's hulking mass rises up from the Maine lake and forest lands, enticing anyone with an eye for summit adventures. In the summertime, climbs ranging from the airy and infamous Knife Edge Route, to 4th Class scrambles, to technical routes like The Nose (III, 5.5) and The Armadillo (III, 5.8) lead up to Mt. Baxter's (5268') summit ridge. A winter climb in Katahdin is a true expedition, beginning with a sixteen-mile ski/snowshoe trip in hauling sleds. Enjoying the warm cabin or tenting out, on subsequent days the vast cirques of Katahdin offer routes ranging from The Chimney (II, WI2) to the Cilley-Barber Route (IV, WI4). Regardless of the size or difficulty of the route, all climbs in this remote location are serious undertakings that offer spectacular rewards. Recent changes in the formerly severe Baxter State Park permitting process has made it easier to climb in the park. If you are interested in undertaking any of Katahdin's climbing challenges, please contact us with advance notice, so that we can coordinate the permits and logistics necessary.
Ouray, Colorado
Tucked into a very European-style box canyon the town of Ouray is best known for its Ice Park. Years ago a mine ran piping along the top of the canyon and over time as those pipes sprang leaks, ice climbers noticed the magic happening. Today the Ice Park offers more climbs per square foot than anywhere else in the world, making it a perfect place to both learn the sport and move it into a whole different level. And beyond the Ice Park more alpine-style ice amazement awaits. Some of the area favorites are Stairway to Heaven (IV, WI4), The Ribbon (IV, WI4), and the Dexter Creek Slab (III, WI4). A week in Ouray and you'll have a hard time recognizing the climber you arrived as!
When you're ready to book your US Climbing Adventure dates, please go to our Scheduling Page!