Main content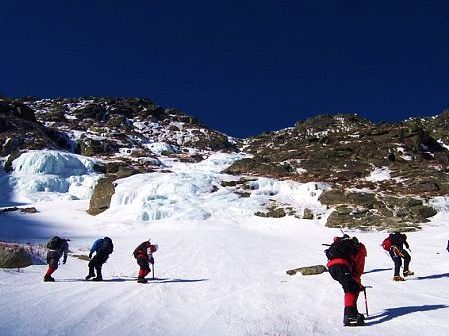 The Winter Mt. Washington Summit
While the austere beauty of a Mount Washington Winter Summit is reason enough to spur one to its heights, another part of the story is that a Winter Mount Washington Summit provides a variety of opportunities for building and testing your mountaineering fundamentals and exploring new aspects of alpine climbing. All routes to the top will test and build your fitness and cold weather systems. The Lions Head Route offers opportunities to build efficient cramponing and ax handling skills. More technical routes such as Huntington's Central Gully introduce climbers to concepts such as ice ax arrests, snow anchors, and roped travel. Ice routes, such as Yale and Pinnacle Gully add front point cramponing and using technical ice tools to the mix. While routes to the summit may vary, one thing remains certain—a Winter Mount Washington Summit Climb is a special experience for anyone wishing to feel the "Freedom of the Hills."
Click here for a more detailed look at Winter Mount Washington Summit Climb Logistics.
Scheduling
Winter Mount Washington Summit Climbs are offered on a custom basis for individuals and groups. Groups of up to four are possible on the Lions Head Route and Central Gully. Groups of two are possible on gullies such as Yale, Pinnacle, Odell's, Diagonal, and North. While the Mount Washington climb is typically done in a day, because Mount Washington's summit conditions can be so fickle, it is a good strategy to book 2-3 days of adventure, such that we can use the optimal day for a summit push. There are a host of enticing options for the remaining days—vertical ice challenges, alpine skills clinics, climbing ice gullies, overnighting on Mount Washington's slopes—the choice is yours.
Pricing
Please check out our Pricing & Policies page for information
Exploring the web, you'll find a range of prices offered for guided climbing days. In making your comparisons, it is important for you to consider the whole range of variables that go into the final pricing—and the final experience. Among the many questions to consider are: How much communication will your guide service provide in helping you to prepare? Will you be communicating with office staff or your actual guide? Are there surcharges for longer days/overnights? Taking into account these and other factors, we believe you'll find Adventure Spirit to be the optimal value. If you have any questions regarding what sets our services above the rest in terms of performance and pricing, please contact us to learn about the Adventure Spirit edge.
Clothing & Equipment Approach
There is no "one" clothing system that works. The key is to think in terms of three layers: wicking, warmth, and weather. The wicking layer (polypro or wool) is a thin layer that gets moisture away from the skin, where evaporation cools it quickly. The warmth layer (fleece, knit wool, or fill) creates dead air space that captures the body's radiant heat. Finally, the weather layer (Gore-tex or Schoeller type fabrics) blocks outside moisture and wind while still allowing the body to ventilate. In the White's winter environment another final layer is useful; often called a "belay jacket," this layer is a puffy fill or down jacket that one puts on for quick periods while taking a break.
For specifics regarding clothing & equipment, please review the accompanying Winter Mount Washington Summit Climb Equipment and Clothing Guide. We are always happy to speak with you directly regarding questions you may have.
Cancellation & Change Policy
Our cancellation and change policy helps our guides with job security. Guides with job security are able to make a career out of it, and hence, excel at it. With that in mind, Adventure Spirit maintains the following cancellation and change policies.
General
A 30% non-refundable deposit secures your adventure dates.
Full payment is requested no later than 30 days before your adventure.
Weather Cancellation & Changes
As you well know, Mount Washington is often prone to challenging weather; for some routes avalanche concerns are present as well. We will attempt to continue our Summit Climb as long as it is reasonable to do so. If our guides determine it is unreasonable to continue with your chosen route based on current or forecasted weather/avalanche conditions they will attempt to contact you as early as possible to discuss alternatives. If the weather is clearly deteriorating and we must cancel the trip, you can reschedule your Summit Climb for up to one year from the date of the planned trip (or, with your approval, we can find some excellent snow and ice climbing objectives lower in the valleys). It is quite common that the weather forecast is "iffy," in which case we will move forward with the Summit Climb. If, once the Summit Climb has begun, it is necessary to change plans due to weather, our guides will work to find suitable objectives for the time that remains.
Personal Cancellations & Changes
We maintain the following policies for personal cancellations:
For cancellations made more than two weeks from the adventure start date, 30% of the adventure fee is non-refundable and the remainder will be issued as adventure credit valid for one year.
For cancellations made less than two weeks from the adventure start date, 50% of the adventure fee in non-refundable and the remainder will be issued as adventure credit valid for one year.
For cancellations made less than one week from the adventure start date, there are no refunds or credit given.
We strongly encourage everyone to consider purchasing travel insurance. Click here for a link to one company we've used in the past.
Fitness & Liability/Release Forms
For all of our rock, ice, and alpine adventures, please review the following documents prior to your adventure. At the start of your adventure, we will ask you to fill out and sign copies of these forms. These forms are required by our insurance company and these forms help us in together creating a positive and safe experience. If you have any questions or concerns regarding your health and fitness and the particular adventure in which you plan to participate, please contact us well in advance of your adventure, so that we can discuss ways to move forward most safely and successfully.
When you're ready to book your Winter Mt. Washington Summit Climb dates, please go to our Scheduling page!