International Climbing Adventures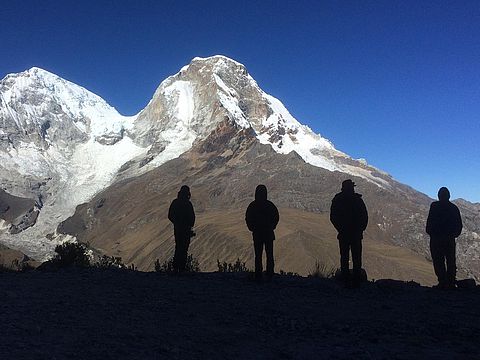 Culture and climbing make for a wonderful mix. Arriving and interacting in the human hubbub of the urban areas, then packing our bags and heading for the solitude of the summits, international climbing allows us to experience both the intriguing people and places of distant lands. After such a climbing encounter these lands appear just as intriguing, but less foreign. Adventure Spirit currently offers custom climbing trips the alpine climbing in Peru, Mexico's Pico de Orizaba, and Ecuador's Cotopaxi. Learn more about these adventures below.
Peruvian Alpine Climbing
Peru offers an incredible array of climbing that mixes high-altitude challenges with the thrill of alpine climbing. The list of potential objectives in the Cordillera Blanca region is long (and high!). Our favorite areas to base out of are the Ishinca or Yanapaccha Valleys. Each of those valleys unfold with numerous proud peaks. Some favorites include: Alpamayo, Yanapaccha, Tocclarajulera, Artesonraju, Pisco, and Urus Este. After landing in Lima, we typically travel to the high mountain town of Huaraz to acclimatize at 10,000', adding in day hikes to locations like Laguna Churup--a stunning lake above 14,000' that lies beneath the massive peak of Churup. Another fantastic option is an overnight trip to Hatun Machay, where mystical tufts poke out of a magical high mountain grasslands, offering excellent options for sport climbing and crevasse rescue practice. Whatever the method, after acclimatizing, we then set off to these wonderful peaks. And whatever Peruvian objectives you choose, the beauty, challenge, and exhilaration will leave you changed--and leave you forever passionate about alpine climbing.
Mexican Volcanoes/Pico de Orizaba
Looming 18,491' above central Mexico's plains, the volcanic Orizaba is steeped in Aztec mythology. Our own climbing story with the mountain will depend on your objectives and timeline. One valuable way to begins is with an acclimatization climb on La Malinche, a 14, 636' volcanic cone nearby. Rising up through pine forests, the summit ridge provides an airy and rewarding summit upon which to get used to the scarce oxygen of altitude. From there we travel to the welcoming villa of the Reyes family in Tlachichuca, our springboard for Orizaba's summit. If your scheduling allows, it is useful and interesting to put another day toward acclimatizing and enjoying the unique cultural and ecological perspectives that our positioning offers, by either exploring mid-altitude ancient ruins or hiking up the verdant eastern flanks of Orizaba. After enjoying another hearty dinner and slumber at the Reyes' villa, we'll depart the next day for the Piedra Grande Hut (14,380'). Cooking our dinner over camp cookstoves and bedding down in the three-story plywood bunks, we'll get what sleep we can for the day ahead. The following day, based on your acclimatization, previous mountaineering experience, weather patterns, and timelines, we can either hike to 15,000' and practice important rope travel and snow self-arrest skills for another day before our summit push or make a bid for the summit that evening. Our summit push will begin under the glow of headlamps, navigating up the rocky gully leading to the Jamapa Glacier. Arriving at the glacier near sunrise, Orizaba's bulk casts a surreal shadow over the horizon below us—truly a unique experience, and one to inspire you for the difficult push ahead. Higher and higher, the air becomes thinner and thinner—and the valueof all of your training becomes clear! As every mountaineer learns, the summit is only half-way, so after enjoying the exhiliration and vistas afforded by our summit success, we will begin our vigilant descent down to the Piedra Grande Hut and back to Tlachichuca. As time permits, we'll round out our trip with some exploration of Puebla, Mexico's fifth largest—and many say—most charming city. Puebla's center city offers an extravagance of colonial charms to explore and a great zocalo (center area) to sit and watch the world go by while you massage sore mountaineering muscles. The entire Mexican mountaineering experience is a challenging one—the physical demands of climbing combined with physiological altitude adaptations—but at the culmination of this experience you'll savor the challenges and ample rewards that the Mexican volcano mountaineering experience has offered to you.
For a more detailed look at the Mexico Volcano High Altitude Mountaineering experience, click here.
For a look at a sample Mexico Volcano High Altitude Mountaineering itinerary, click here.
For a look at our suggested clothing and gear for the Mexico Volcano High Altitude Mountaineering experience, click here.
Ecuador/Cotopaxi
Our acclimatization for Cotopaxi begins the moment we step off of the plane in Quito. Perched at over 9000', the capital city of Ecuador is the hub from which we begin our mountaineering adventure. Our own itinerary can be adjusted to accommodate your personal interests, objectives, and timeline, but a typical adventure is as follows: The first day we will adjust ourselves to the altitude—and to the rhythm of a different land and culture—by exploring the hilly city of Quito and its many neighborhoods, cathedrals, parks, and other attractions. The next day we'll head higher, toward the summit of Pichincha (15,696') which flanks the city. Traversing its slopes and then pushing up through a rocky scramble—or even trying a few technical pitches—we'll arrive at the summit, looking way, way down at the hubbub below. The next day we'll set off for Cotopaxi, taking a 4x4 over a long and rough road through Ecuador's spectacular "paramo"—highland grasslands. The grasslands end abruptly at the base of Cotopaxi and we will begin a steep drive to the refuge at 15,000'. The following day we'll practice the mountaineering skills we'll need for the summit push, then return to the refuge to rest up for the day ahead. Our next day we'll begin at about 1am, rising, suiting up, and heading out the door under the glow of our headlamps. Up and up we'll push into the darkness, first on volcanic ash and rock, then onto snow, and then the glacier. Rising toward the summit cone, as the sun rises, you'll see spectacular ice walls, seracs, crevasses, and steam vents. The top often requires crossing a fixed ladder before pushing up over the snow cap to "La Cumbre"—the summit. On one side of us, the summit falls away into an immense volcanic hole, on the other, a field of snow drops away thousands of feet to the paramo below. Coming back down, we'll see the territory we passed in the darkness, marveling at the mechanical forces contained within this mountain and displayed on its slopes. Once back at the hut, we'll pack up and depart for Quito. As our schedule and inclinations allow, any days left can be enjoyed in Ecuador's renowned cultural center, Otavalo, or considering other outdoor pursuits…either provides a satisfying finish to a summit adventure whose rewards you'll carry with you long after the backpack has been put away.
For a look at our suggested clothing and gear for the Ecuador Volcano High Altitude Mountaineering experience, click here.
When you're ready to book your International Climbing Adventure dates, please go to our Scheduling page!